Congratulations on becoming a new homeowner. Whether you bought the home for family use or commercial flipping, this landscaping guide will help you get more value from it.
So at this point, you don't have to depend on your imagination or limited abilities. Among many other benefits, the tips shared here will save you money. Done very well, the landscaping ideas you execute could continue giving you that satisfactory outlook for many years to come.
For many reasons, some people choose the do it yourself (DIY) landscape construction route.
The first and most obvious one that comes to mind is the need to save money or you can look at it from a perspective on a limited budget. With this option, you don't have to hire a landscape construction company.
The simple pleasure of tending to green, colorful landscape or garden is another good reason some people choose to do the work themselves. Perhaps, even after the first set out when you become a new homeowner there is always a need to take care of your property from time to time.
You just need to learn how to do it.
Assess Your Landscaping Needs First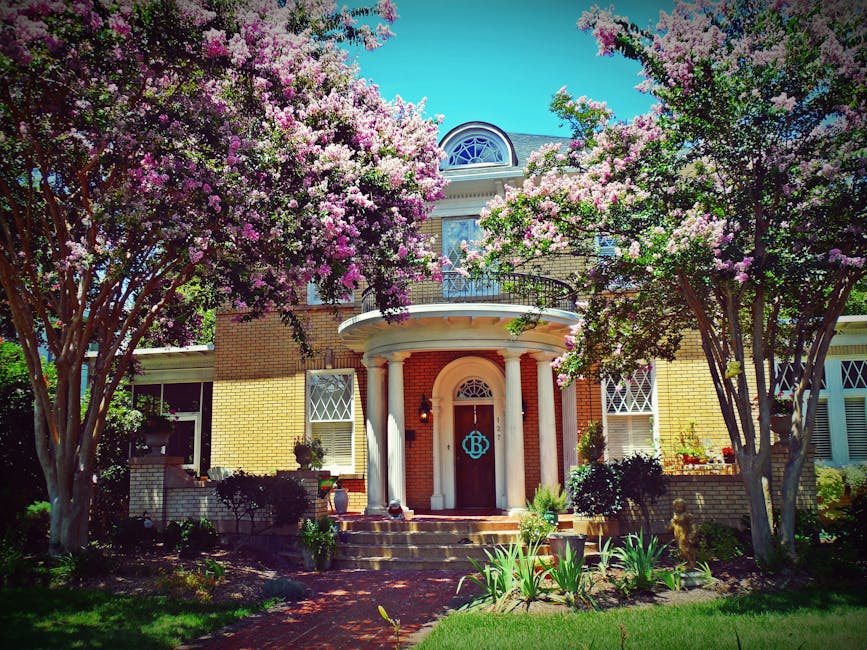 Source: https://www.pexels.com/photo/white-concrete-pillars-in-front-of-house-during-day-176860/
Depending on who is responsible for landscaping in your new home, the very first step is to make an assessment. This very step will determine how those needs will be fulfilled going forward. For example, it influences factors like design and cost. In addition to that, this could make it possible to prevent potential waste that often results from late-stage mistakes.
At this stage consider if your children will need playing space. Will you be growing vegetables? Now think about having a patio too.
For some people, having decorative water elements like ornamental and splash pools comes into play.
The key task here is to think through these things and come up with a list. With this list, your ability to make a good decision on budget and time requirement will increase. Don't skip this before moving to the next step you may have in mind.
Landscape Design Layout: Put Your Ideas On Paper
With simple graph paper and pencil, creating beauty and utility in your property doesn't have to be hard. What you need most is clear thinking that follows the needs already listed out.
With your ideas clearly laid out on paper, you'll have what you need to actually do it yourself. However, if you need a professional touch from start to finish, consider Terra Nova, an Edmonton landscape company with a strong track record in the field.
Regardless of where you want your landscaping layout design done, you may want to take a walk outside and around the house to visualize how everything will flow out.
If for instance, you want to have beautiful views of your colorful flowers from the inside, proper positioning starts at this stage. Decide what you want to have in your main entrance into your home. And if there are some unusual slopes in the area decide how it will be handled at this time.
The shape, design and size of your garden should also be taken into account.
Like I said earlier, it shouldn't be harder than necessary. In its basic form, landscape layout design is mainly about deciding what stays where.
Choose Landscaping Materials
In order to fulfill your landscaping needs, some materials will certainly be required. As for this one, you really have to do it yourself whether you are hiring landscaping Edmonton landscaping company or not. The first thing you have to note here is that it's always better to choose all required materials at once.
By doing so you'll be able to make a realistic estimate of the total budget required to make your colorful dream become reality.
Assuming you have the budget to buy all at once, chances of bigger discount savings abound as opposed to buying one by one. During the real landscape construction, having all required materials handy is very likely to prevent some waste that may arise from redoing some parts and processes.
At this stage, below are the key choices to consider before buying the materials.
According to one landscaping expert in Edmonton, Canada hardscape is like bones that hold everything together in your front and backyard. In simple literal words, this refers to the hard surfaces like retaining walls, fence, deck etc. When choosing a material, the main thing to consider here includes the potential impact on the environment as well as maintenance requirements.
For instance, wood may require periodic painting in order to maintain the aesthetic value. Concrete on the other hand cracks and so requires repair from time to time.
While some people go the route of trying to alter soil texture, sometimes it doesn't produce the best outcomes. Instead, many experts advise that you choose plants proven to be a good match for your environment. For this, you have to do a careful analysis of your microclimate, planting zone, sun and shade pattern as wells as soil composition.
By doing this you'll give your plants and flowers a perfect opportunity to thrive from season to season. Another interesting point is to consider native plants within your reach.
In most cases, such plants have been proven to survive harsh weather for a long time within a specified region.
Once again, these considerations also help with your landscaping budget decisions.
Without a doubt, you should already know that an irrigation system needs to be considered in your landscaping plan for your new home. Bad choice or negligence in these areas could result in slow death for your plants and flowers. Assuming you need a new ground irrigation system, make sure that it comes in last after your planting had done completely.
Also worthy of consideration is the watering need of each set of plants in your landscape. Don't assume that everything is the same. This should also determine the type of sprinklers to budget for.
With a good landscape lighting system, you'll be able to extend the time that you spend outdoors during the summer nights. And for all season nights, colorful lighting gives your landscape an added beauty by illuminating walkways, entrances and more.
Again, in winter mornings when you have to get up early to shovel sidewalks these lights actually makes the task faster.
For this purpose, it is now possible to find newer low voltage lighting that is within your budget. Moreover, motion sensor flood lights could scare some intruders away from your home even when no one is around. A little more research on this will unfold the best options. With most of these things, you are likely to get installation manual with them.
Essential DIY Landscaping Tools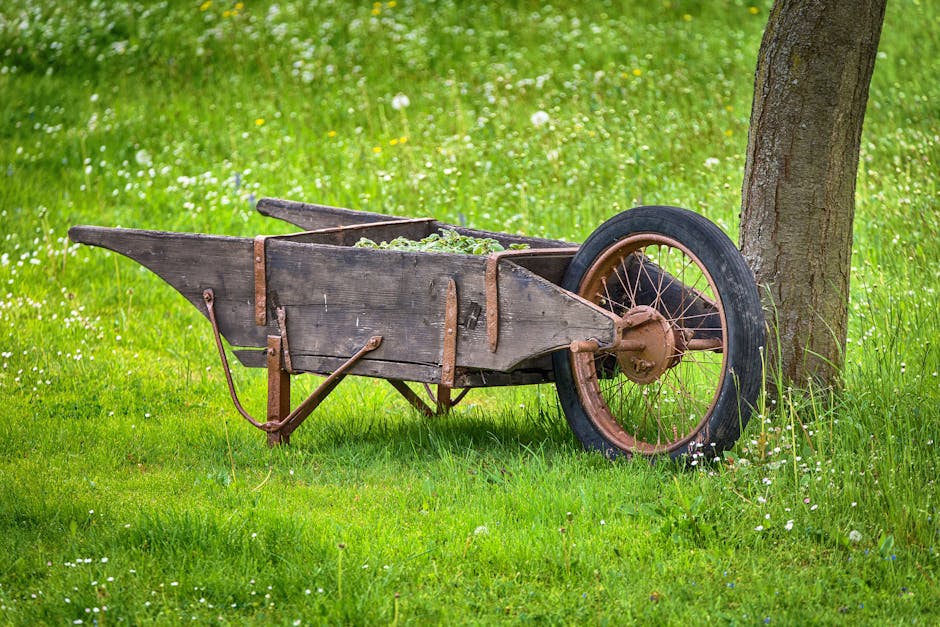 Source: https://www.pexels.com/photo/agriculture-cart-close-up-countryside-461061/
After you have listed your needs, done the layout design, chosen and purchased material, next thing is getting to actual work. However, you can't do the work with bare hands. And this where do it yourself (DIY) landscaping tools come into play.
Basically, these are the tools you'll need to bring your landscaping ideas to life.
Trowel: Specifically for light digging requirements and uprooting weeds, the trowel is a must have in the list. And you if you are the do all the concrete and mortar related work on your own, this tool comes handy as well. So don't forget this one while budgeting.
Pruning Tools And Shears: There are instances when scissors won't work well for trimming plants. When such occasions arise, a pair of garden shear becomes useful. If you don't have it already, consider buying one for your garden and other possible uses.
Multi-Setting Hose Nozzle: This one extends the watering of your garden to all corners without exclusion. You'll also find this useful for your lawn care.
Shovel: For bigger digging jobs, a shovel is often better than a trowel. General yard cleaning work requires a shovel too.
Edger: Your sidewalk and lawn don't have to grow too much disgusting weed. But when it happens, take this tool to clean out your yard as promptly as possible. The satisfaction you get while doing it is really satisfying. Just in a matter of minutes, you'll be able to see the difference your commitment will make.
Wheelbarrow: Regardless of the yard work involved, what you can carry in small quantities at multiple times will carry in few numbers of wheelbarrow pushes. In terms of use cases, this tool can serve both for new planting or cleaning work. And it doesn't have to cost a fortune.
Takeaway
Now, I want you to understand that these are just some of the do it yourself (DIY) tools that may be required especially for new homeowners. So it is not meant to be an exhaustive list. One thing to note is that when full landscape construction work is involved with things like swimming pool, patio and electrical installations, it is in your best interest to engage an expert.
Practically, the tips shared here will make it possible for you to plan and experience exactly what you want even while saving money at the same time.
But please, do not allow the desire to save money lead you to take unnecessary risk.
June 22, 2018