Transforming Your Bathroom Space
If you're considering a bathroom makeover for your home, you're not alone. Many homeowners are looking to refresh and rejuvenate their outdated bathrooms, often seeking expert bathroom ideas, custom bathroom designs, and selecting materials to create the perfect sanctuary within their homes. Upgrading your bathroom can also boost your home's value if you're planning to sell in the future. So, whether you're seeking bathrooms on a budget, or planning a luxurious wet room, our guide to home improvement tips will help you achieve a successful bathroom transformation.
1. Understanding Your Bathroom's Current State
Before diving into your bathroom makeover, it's essential to consider your space's current limitations and what changes you're willing to make. Start by evaluating the following aspects of your bathroom:
Layout:
Do you want to keep the existing layout or redesign it for better functionality and aesthetics?
Fixtures:
Are you looking to replace or refurbish existing fittings such as the bathtub, sink, and toilet?
Storage:
Could you use additional storage for toiletries, towels, and other essential items?
Lighting:
Is it adequate, or would you like to include more ambient, task, or accent lighting?
A thorough assessment of your bathroom's current state will help you make informed decisions during the makeover process.
2. Finding Bathroom Makeover Inspiration
When seeking expert bathroom ideas for your home, start by browsing home improvement websites, magazines, or social media platforms like Pinterest and Instagram for inspiration. You can find plenty of custom bathroom designs tailored to various spaces, personal styles, and budgets.
Additionally, consider visiting local showrooms or consulting professional designers to collect samples of colors, materials, and fixtures that will help you visualize your desired bathroom transformation.
3. Making A Comprehensive Plan
A carefully considered plan is crucial to ensuring a smooth remodeling process. Begin by deciding on a practical timeline for your bathroom makeover, taking into consideration factors such as material delivery times, installation duration, and the availability of professionals.
Next, make a list of specific changes you'd like to implement, such as:
– Replacing or refurbishing fixtures
– Updating the bathroom layout
– Installing new lighting
– Adding storage solutions
– Selecting new materials for walls, flooring, and countertops
Once you've mapped out your plans, be prepared to make adjustments based on your timeline, budget, and the expertise of the professionals you hire.
4. Selecting Materials For Your Bathroom Makeover
The choice of materials for your bathroom plays a significant role in the overall aesthetics, functionality, and durability of your space. Keep these factors in mind when selecting materials:
Maintenance:
Choose low-maintenance materials like porcelain or ceramic tiles for easy cleaning and upkeep.
Water Resistance:
Opt for materials that can withstand constant exposure to moisture, such as sealed natural stone or glass tiles.
Style and Color:
Ensure that your chosen materials complement the overall design scheme and color palette of your bathroom.
Take the time to research, compare prices, and collect samples to achieve the perfect balance between style, performance, and cost.
5. Hiring the Right Professionals
While some aspects of your bathroom makeover may be suitable for DIY enthusiasts, hiring experienced professionals for tasks such as plumbing, electrical work, and tile installation will provide the expert touch your project needs.
Seek recommendations from friends, family, or online reviews to select trustworthy professionals with a strong track record of delivering quality work. Don't forget to request quotes from multiple sources to ensure a fair rate and schedule.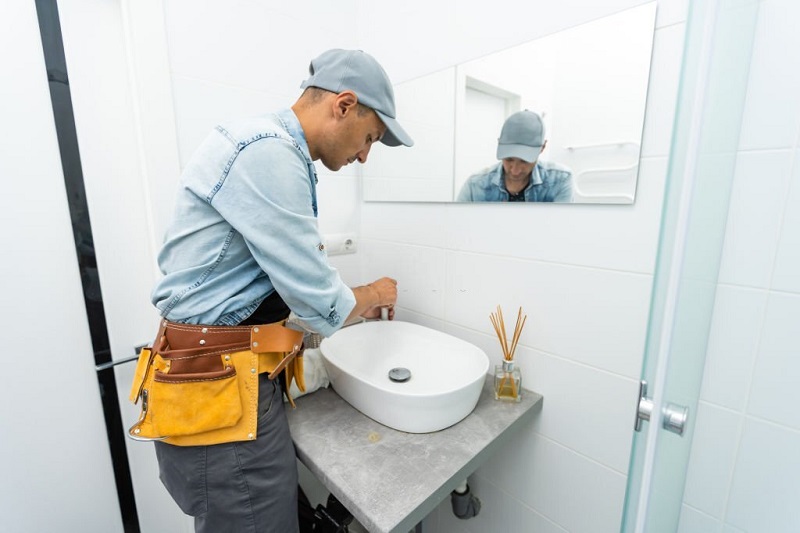 6. Staying On Budget
Transforming your bathroom space can often cost more than initially anticipated, but with a well-planned budget, you can avoid unexpected expenses. Establish a clear budget from the outset, allocating funds for materials, labor, and a contingency fund for unforeseen expenditures.
To maximize your spending, look for sales or discounts on materials, repurpose existing items, and prioritize your must-have features to ensure you achieve your desired outcome without breaking the bank.
7. Adding Finishing Touches
Once the major work is complete, it's time to add those final touches that make your bathroom feel truly personalized. Consider adding accessories such as:
– Plush towels and bath mats
– Shower curtains
– Decorative storage solutions
– Artwork or mirrors
– Plants for a touch of greenery
Experiment with different elements that reflect your personal style to create a harmonious space that you'll love spending time in.
Conclusion: Tips For A Successful Transformation
A successful bathroom makeover for your home doesn't have to be an overwhelming or costly endeavor. With careful planning, research, and the help of skilled professionals, you can achieve a stunning transformation that enhances your home's value, function, and style. Keep our list of tips in mind to stay focused, organized, and ready to tackle the challenges that come with updating your bathroom space.