If you need to create a data feed to use our syndication service then you can ask one of the following companies to create it for you: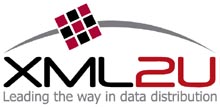 XML2U feeds are accepted by more portals, classifieds, verticals, social media, apps and other marketing platforms around the world than any other feed. Finding the time to add your listings to multiple marketing platforms, has become a real problem.
The solution is a data feed from XML2U. One feed is all you'll need. Just look at some of the 1000+ marketing platforms you could be feeding to.

Our RealBird Listing Publisher service takes marketing, and in particular listing marketing and lead generation one big step forward from "standard" web technology. Our platform enables real estate professionals to get the maximum exposure for their listings via the automatic real estate listing syndication platform, single property websites, listing widgets, Facebook marketing, SMS text code marketing and QR code based mobile platform and built-in communication and lead capturing tools.

IDX Broker is engineered to collect, organize and maintain your local MLS listings, allowing you to seamlessly display all MLS properties on your real estate site. IDX (Internet Data Exchange) allows agents and brokers to access and display MLS listing information on their real estate websites. Also known as Broker Reciprocity, the term "IDX" refers to the software, rules and regulations which allow MLS data to show on your site. This data feed typically encompasses the listing data for properties entered into the MLS system, while IDX rules may determine where, what, and how it is displayed. If your MLS provides access to this data feed, you may use it to promote all eligible listings on your website, not just your featured listings.
IndiaMLS has been created to empower real estate professionals and facilitate cooperation in closing real estate transactions via modern software tools. In doing so, we help brokers/agents increase their individual performance, efficiency and income potential, as well as protecting each other's rights.
Listings of India is a Multiple Listing Services Company to connect all real estate agents in India. It is our desire at Listings of India to make it quick and easy for you to search and find real estate located all across India through our real estate agents'  web sites. Listings of India can help you find providers of many of the services needed in a real estate transaction. Listings of India features some of the best known and most respected names in real estate.
Mydatafeed.com . Are you an estate agency and do you have a property feed that is not compatible with the property portals that you would like to advertise with? We can take your existing feed, run it through our Feed Conversion Software and then send you the feeds that you need. The feeds will be sent to you in URL format for you to send on to the appropriate property portals.

DataExport manage property data for a growing number of businesses; estate agents, letting agents, large corporate agents, software companies, property portals, newspapers and app designers. We have spent many years developing and integrating our software and feed system to an increasing number of property portals, software companies and websites, simplifying the whole feed process for everyone.

Estate Agent Feeds is a real-time property portal upload service for UK and overseas sales and letting agents. We provide a no fuss, low cost, turnkey solution for property professionals wanting to connect with their Rightmove, Primelocation, OnTheMarket and Zoopla accounts in real-time without having to administer these sites manually or independently. We help you eliminate time consuming tasks and repetitive administration by providing an all-in-one solution that enables you to easily manage and update your property details from a single place, while automatically publishing them to all the services you use.
xmlCombined integrates all the essential aspects of property management. Content Management System(CMS) for your website, Customer Relationship Management (CRM), XML feeds to all major portals, property sharing with other agents and importing properties. xmlCombined also offers Real Time updates for portals that support it including Zoopla and Rightmove, giving you the option to show your new and amended properties immediately on key portals.
Expert Agent property software has been supporting estate and letting agencies to run their business since 2003.
Easy to use and learn, Expert Agent is perfect for small or start up agencies who want to hit the ground running. You can learn at your own pace with free, unlimited online training that's available any time. Set up is fast, pain free and doesn't require specialist knowledge. Plus you can work anywhere, from any device with this cloud based, responsive software.

Reallyo.com We're independent so we syndicate and market your rental listings to the biggest rental websites with just one click including Apartments.com, Rent.com, Homes.com and many more. Our syndication network consists of the biggest and most visited rental portals online.

QuantaTec is a London based Web Design and Development company, we specialise in providing dedicated Website Development, Software Solutions, Web Hosting, Business Emails, SEO and Internet Marketing Services to Estate Agents, Property Consultants and Letting Agencies – all under one roof!
RentLinx Website Integration makes it easy to add your property listings and search functionality to your website. Customize our themes to match your site's design and manage everything through RentLinx.
RealShout. Easily attract more renters & homebuyers! Join our over 15,000 customers who use the RealShout advertising system to easily connect with more renters and homebuyers.
Prop Data is a digital marketing company that is solely focused on marketing real estate on the internet. Our approach is to continually identify where your buyers, sellers, landlords and tenants start their search for an estate agency or property online and then provide you with a wide range of innovative digital marketing products and services to help you effectively reach, engage and ultimately convert your target market into high-quality leads. Prop Data's platform enables you to capture a listing once and then automatically create maximum market exposure for your real estate brand and listings through our website, content, search engine, email, property portal and social media marketing channels.